Yellow Card Centre Wales' Medicine Safety Day 2023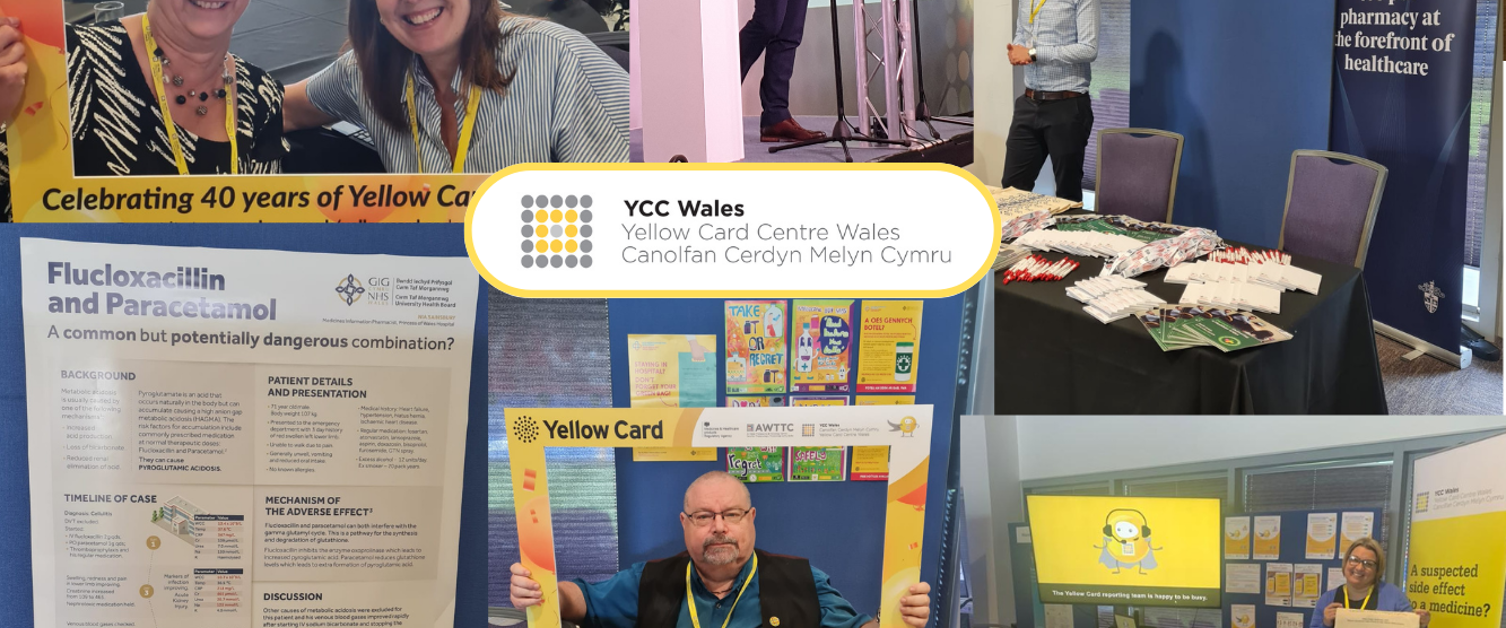 The event was held jointly with the All Wales Therapeutics and Toxicology Centre (AWTTC) and celebrated the 40th anniversary of YCC Wales.
The event was attended by Medicines Safety Officers, Yellow Card Champions, pharmacists/nurses with an interest in medicines safety, and members of the medical devices' community. Colleagues from the MHRA and Welsh Government also attended.
The programme featured a huge variety of presentations, from what happens to your Yellow Card and the future of pharmacovigilance, to the wonderful world of medical devices. We were fortunate to be joined by Professor Phil Routledge, one of the founders of YCC Wales, and who better to give us a presentation on the history of Yellow Card reporting and the Wales perspective. The attendees really appreciated the presentations related to real life experiences with medicines safety; it was a privilege to hear Jermaine Harris speak about his son's achievements with cystic fibrosis, and Geoff Spink's personal account of life as a "Thalidomider". These were great reminders as to why we do the jobs we do.
Andrew Evans, Chief Pharmaceutical Officer to Welsh Government, gave an energising address highlighting the imperative need for safe prescribing and monitoring of medications, in a world where the number of prescriptions and new medicines are ever increasing. He also coined the phrase of the day – "Life begins at 40!".
We would like to thank Professor Phil Routledge and Phil Tregunno for taking on the difficult task of judging our poster competition. They were impressed by the standard on display and the overriding theme of wanting to action positive change in the healthcare sector. Congratulations to:
1st – Nia Sainsbury (Cwm Taf Morgannwg University Health Board) – Flucloxacillin and paracetamol, a common but potentially dangerous combination

2nd – Rafael Baptista (Powys Teaching Health Board) – A new Pharmacy Intervention Recording Tool (xPIRT) to improve medicines optimisation, prescribing practice and health outcomes

3rd – Jenna Walker and Hayley Jones (Cardiff & Vale University Health Board) – Tacrolimus and Clarithromycin co-prescribing in renal transplant patients
As well as viewing the poster displays, attendees also had the opportunity to visit a number of information stands. These were hosted by: YCC Wales, AWTTC, National Poisons Information Service (NPIS), Royal Pharmaceutical Society (RPS) and Your Medicines, Your Health (YMYH).
The event provided a great opportunity to celebrate, reflect and look ahead, and it was wonderful to be able to host the day in-person. Attendees were able to network with colleagues old and new, and enjoy a slice of Charlie-shaped cake!
YCC Wales would like to thank the brilliant speakers, guests and staff for making the 40th anniversary of YCC Wales a day to remember.
Here's to the next 40 years!