Supporting patient access to vital palliative care medication during COVID-19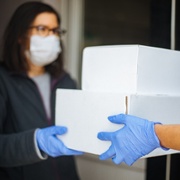 The All Wales Therapeutics and Toxicology Centre (AWTTC) played a pivotal role in ensuring vital palliative care medication reached terminally ill patients during the coronavirus pandemic.
Healthcare professionals identified palliative care medication as being a major concern when caring for terminally ill patients during COVID-19, which had the potential to compromise the delivery of the best standard of End of Life (EoL) care. The period of unprecedented pressure created by coronavirus led to increased demands and concerns around the availability of EoL medicine, requiring a rapid change of approach.
AWTTC worked collaboratively with a number of organisations including Marie Curie, Welsh Blood Service and Clinical Logistics Health Courier Services Wales (HCSW), to develop the End of Life COVID-19 Medicines Service. AWTTC's multidisciplinary team undertook a significant role in coordinating this national medicine service across Wales, by deploying a member of the Welsh Analytical Prescribing Support Unit (WAPSU) to project manage the development and implementation of the service.
"It has been very rewarding to be part of this project and to work with such a positive proactive team. I feel grateful that I had the opportunity to be involved," stated Wendy Casey, WAPSU Project Manager.
In Wales the care of terminally ill patients normally involves the 'Just in Case' scheme, which enables healthcare professionals to carry out Targeted Anticipatory Prescribing. During the pandemic, 'Just in Time' prescribing was required as an interim measure to ensure reasonable access to palliative care medication for all patients.
The End of Life (EoL) Medicines Service, which was developed in just 6 days, provided a single-point of access to 'Just in Time' Emergency Medication Packs during the pandemic. Through effective collaboration with the national courier service, 'Just in Time' Emergency Medicine Packs could be delivered to any location across Wales within in two hours. The delivery of this vital medication ensured rapid symptom control, allowing dignified care of people as they move towards the end of their life.
More information on the End of Life COVID-19 Medicines Service.