National Poisons Information Service provides poisons training in Myanmar
Gloria Alldridge (Senior Information Services Manager) and Talan Parnell (Specialist in Poisons information) from the NPIS provided content for the course, alongside health protection scientists, epidemiologists, health advisors and project support officers, all engaged in support of the international health regulations (IHR) strengthening programme under Global Public Health.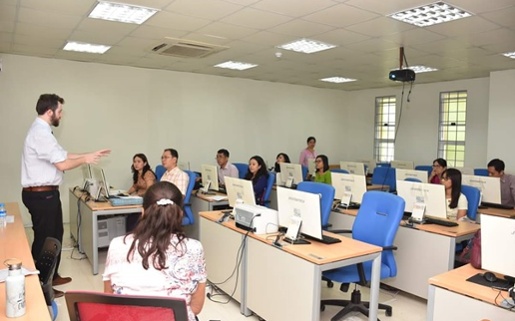 Two training sessions and several planning/update meetings were held in Yangon during this period, with NPIS providing TOXBASE training to Burmese medical professionals to improve their interpretation of a clinical toxicology database, to assist in the treatment of clinical cases and in responding to poisons related telephone enquiries in the soon to be opened Myanmar National Poisons Control Centre (NPCC).
A series of Myanmar-relevant case studies, developed in close cooperation with the NPCC, were presented to the trainees by the NPIS, with answers provided in real-time. The case studies were designed to test several features of TOXBASE, with each trainee required to work through the case studies on individual computers, with facilitation from NPIS and PHE staff.
The case studies developed for the training involved commonly seen poisons in Myanmar, including carbon monoxide, opiates, paracetamol, organophosphates, calpol, methanol, chlorpheniramine, rodenticides and paraquat. Trainee attendance and interaction was excellent with several trainees commenting on the value of the training and the benefit of using TOXBASE in an applied, structured manner.
A four-day training course was then delivered to participants from the Department of Medical Research (including the NPCC), the Occupational and Environmental Health Division and the New Yangon General Hospital Poison Treatment Unit (Department of Medical Services).
NPIS delivered training during the first day on the role and function of a poisons centre, highlighting the importance of standardised data collection and operating procedures, poisoning epidemiology globally, and poisoning epidemiology specific to Myanmar. Overall the training course was well received by all participants.