AWTTC supports World Patient Safety Day 2020
The All Wales Therapeutics and Toxicology Centre (AWTTC) joins health care professionals across the world in supporting World Patient Safety Day 2020. The aim of World Patient Safety Day, which is marked annually on 17 September, is to promote and increase public awareness of the measures being taken in the interest of patient safety.
The theme of this year's World Patient Safety Day, Health Worker Safety: A Priority for Patient Safety, is more relevant than ever due to the huge challenges faced during the COVID-19 pandemic.
Recognising patient safety remains a priority for AWTTC, with World Patient Safety Day providing an opportunity to promote the multidisciplinary team's work to improve the safety of medicines and provide education in medicines safety across Wales.
Appropriate support and accurate advice on safe medicines use is essential for maintaining health worker and patient safety. Yellow Card Centre Wales (YCC) plays a vital role in supporting the safety of medicines for patients in Wales. The work of YCC Wales includes providing education in medicines safety for health professionals and patient groups, along with promoting suspected adverse drug reaction reporting via the Yellow Card Scheme.
AWTTC joins YCC Wales in celebrating World Patient Safety Day to promote a strong safety culture that ensures health care professionals feel comfortable and confident to discuss and report errors and adverse effects. Reporting is a crucial part of patient safety, providing the opportunity to learn and make practice safer.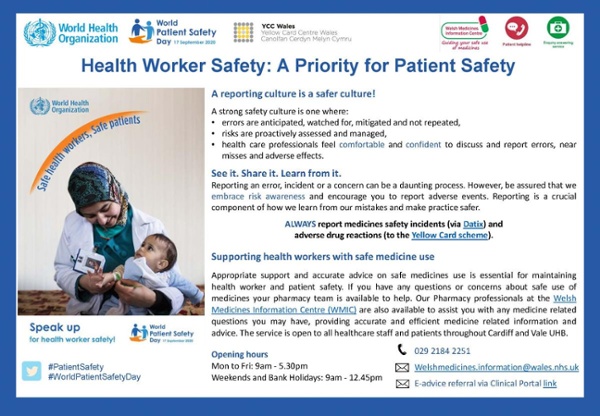 If you have any questions or concerns about the safe use of medicines in Wales, YCC Wales' Pharmacy professionals at the Welsh Medicines Information Centre (WMIC) are also available to assist with any medicine related questions, providing accurate and efficient medicine related information and advice. The service is open to all healthcare staff and patients throughout Cardiff and Vale UHB.
Call the Welsh Medicines Information Centre on 02921842251 (Mon to Fri: 9am - 5.30pm, Weekends and Bank Holidays: 9am - 12.45pm). For more information about YCC Wales and AWTTC visit: www.awttc.org