AWTTC Best Practice Day 2023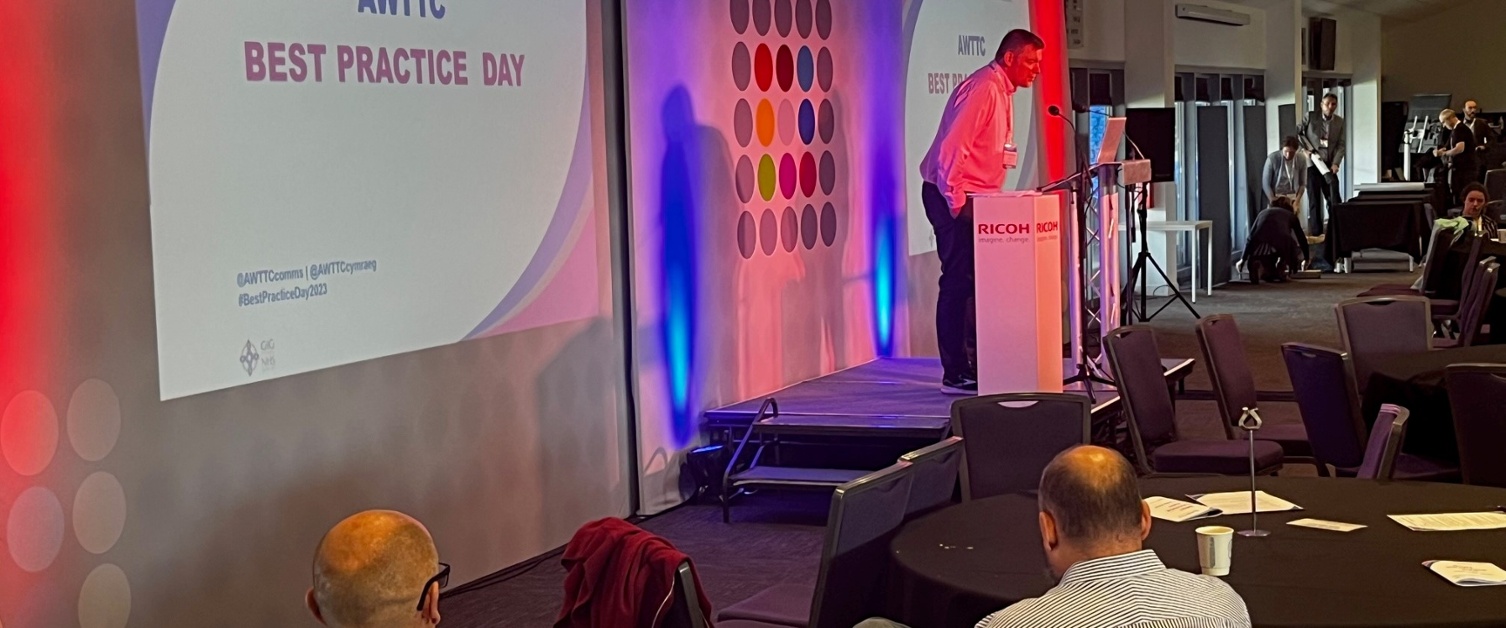 It was another informative day at the AWTTC annual Best Practice Day, an event that facilitates knowledge sharing to bring about improvements in prescribing practice in Wales.
More than 80 delegates attended the event at Cardiff City Stadium on July 13th including pharmacists, pharmacy technicians, nurses, physios, doctors and dentists from across Wales.
Dr Laurence Grey, Chair of the All Wales Prescribing Advisory Group, opened the day and outlined the programme, which included five presentations during the morning and breakout sessions in the afternoon hosted by each of the Welsh Health Boards.
First to present was Rhys Howell, Advanced Pharmacist – Governance, Improvement and Transformation at Swansea Bay UHB who gave a talk on A Focus on the Analgesic National Prescribing Indicators.
The next topic on the agenda was the Development of the Dental Antimicrobial Stewardship Programme in Betsi Cadwaladr UHB (BCUHB) led by Clara Tam, Lead Antimicrobial Pharmacist, BCUHB and Katherine Mills, Dentist, HEIW Director of Dental Core Training Program (North Wales), Regional Dental Educator.
Adam Mackridge, Strategic Lead for Community Pharmacy at BCUHB spoke about the Response to the Group A Strep Demand Surge in Wales, a topic of great interest after the outbreak in the Winter of 2022.
Dr Owen Seddon, Infectious Diseases Consultant at Cardiff and Vale UHB was next to discuss Outpatient Parenteral Antibiotic Therapy (OPAT): Good or bad for Antimicrobial Stewardship?
Finally, Sheridan Court, Clinical Lead Pharmacist for Older People services at Morriston Hospital, Swansea Bay UHB and Harriet Price, Lead Pharmacist for Older People Swansea Bay UHB gave a presentation and shared case studies on Polypharmacy for older people: a guide for health care professionals.
Some great conversations continued during the break and lunch as we were joined by the Yellow Card Centre Wales, Wales National Poisons Information Unit and the Royal Pharmaceutical Society along with our research and data colleagues.
After lunch each of the seven health boards and Velindre NHS Trust hosted breakout sessions which enabled delegates to engage in conversations around a particular theme.
Topics included:
Aneurin Bevan – Use of ABUHB Gabapentinoid Pain Prescribing Support Pace in Primary Care
Besti Cadwaladr – Developing a Local Enhanced Clinical Effectiveness Service to drive change in the AF NPIs: what did we learn and how can we apply this to the other indicators?
Cardiff and Vale – Supporting DPI/SMI NPI
Cwm Taf Morgannwg – Reflections from a pharmacist Designated Prescribing Practitioner (DPP)
Hywel Dda –Opioid Roulette
Powys – A new Pharmacy Intervention Recording Tool (xPIRT) to improve medicines optimisation, prescribing practice and health outcomes
Swansea Bay – Clinical Pharmacy and the Virtual Wards
Velindre – A novel approach to organisation-wide treatment
Dr Laurence Gray, Chair of AWPAG brought the information packed day to a close and thanked everyone for sharing their experiences which he hopes will accelerate learning for all involved.
AWTTC looks forward to hosting the next Best Practice Day in 2024. Keep an eye on our website and Twitter (@AWTTCcomms) for more information on our engagement events.