AWTTC attends Cardiff and Vale UHB Leading Improvement in Patient Safety (LIPS) programme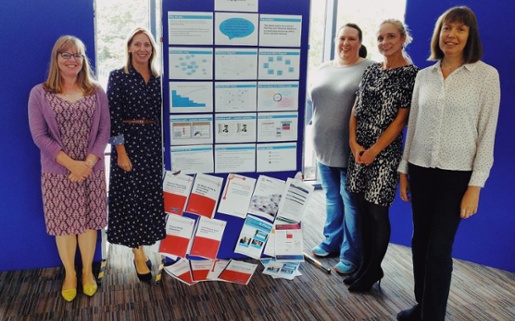 Representatives from AWTTC gave a presentation at the Leading Improvement in Patient Safety (LIPS) programme in July. The programme, run by Cardiff and Vale University Health Board, is designed to provide tools and re-usable skills to clinical and non-clinical teams to deliver service improvements across their area of speciality.
AWTTC's project was focused on improving patient and public engagement in our decision-making processes about medicines use in NHS Wales. Using the models and tools provided in the programme the AWTTC team identified that the All Wales Medicines Strategy Group (AWMSG) website and social media were areas to focus on. AWTTC supports the AWMSG by providing evidence-based assessments of new medicines, analysing medicines usage and developing medicines optimisation resources.
At the end of the LIPS programme we presented our project at a celebration event attended by the Cardiff and Vale UHB Executive Board. Since attending the LIPS programme AWTTC has increased its social media presence by setting up a bilingual Twitter account. We are currently developing a new AWMSG website with a focus on improving our patient and public information pages.
We're grateful to the health board for providing an excellent LIPS programme with renowned leaders and inspirational speakers.
Follow AWTTC on twitter: @AWTTCcymraeg and @AWTTCcomms