PAPIG meetings
Coming to one of our Patient and Public Interest Group (PAPIG) meetings is a great way to find out more about us and how to get involved in our work. Everyone is welcome.
Next meeting - 21 October 2022
09:30 - 12:00 via Zoom - register online here
The focus for this meeting is the environmental impact of medicines and will include talks on:
How AWTTC/AWMSG are supporting the medicines sustainability agenda
Inhaler recycling in community pharmacy (Swansea Bay University Health Board)
The pharmaceutical industry perspective on sustainability in relation to medicines (Association of the British Pharmaceutical Industry)
Patient perspectives on sustainability (Asthma and Lung UK)
We would also like your feedback on two patient information leaflets (one on sustainability and the other on unlicensed medicines) which will be sent out in advance to participants.
Other talks will include:
Yellow Card Centre Wales update
Introduction to the UK National Poisons Information Service and the Welsh National Poisons Unit
We hope you will join us for this free event. Please complete our online form if you'd like to come to the meeting.
PAPIG meeting - 18 March 2022
Watch the video of this meeting.
The programme of this meeting is available below.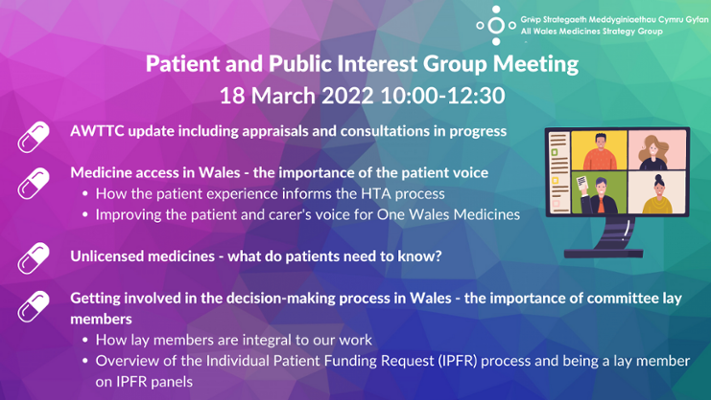 PAPIG meeting - 12 November 2021
The video and meeting programme of our second virtual PAPIG meeting on 12 November are available.
PAPIG meeting - 23 July 2021
We stopped our usual face-to-face PAPIG activities in 2020 because of the coronavirus pandemic.
However, we re-started our quarterly meetings by holding our first ever virtual PAPIG meeting on 23 July 2021.
A video of this event is available below and the meeting programme is also available.